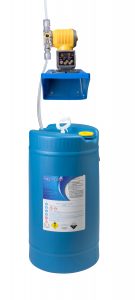 As Proxy-Clean is continually dedicated to improving its offerings and meeting the needs of its customers, the company was looking for a way to further drive performance on farms and decrease the workload of customers trying to treat their water. In addition, customers had been requesting a dosing unit for many years that could treat the water on the entire farm from a central location. Identifying a reliable, accurate dispenser capable of handling large volumes of water would help ensure consistent delivery of Proxy-Clean chemicals to animals.

Solution
In 2018, Hydro Systems, a leader in chemical dosing and dispensing solutions, had its Hydro Xtreme electronic diaphragm pump installed on turkey farms to be used with Proxy-Clean's chemicals. Since then, several large poultry integrators, both broiler and breeder, have also invested in the equipment.
Hydro Xtreme is designed to better manage fluctuations in water pressure, temperature and environmental factors. Compared to peristaltic pumps, it offers a longer lifespan, more precise chemical dilution and eliminates the need for costly squeeze tubes or additional controllers for water meters and pump circuits. Without squeeze tubes, farms can rest assured that Hydro Xtreme will function reliably over time without the need for frequent maintenance.
Hydro Xtreme also comes equipped with a built-in microprocessor system control so that a separate controller is not required to operate the pump and water meter system. The equipment is easy to turn on and off, stores the set perimeters even when off, stays primed during downtime and requires minimal training.
Providing animals with access to a clean water supply is essential on farms, especially in antibiotic-free environments. Combining reliable dispensing equipment with effective chemicals that remove heavy soils from water lines helps farms achieve cleaner water that supports animal health.
Results
Using Hydro Xtreme and Proxy-Clean Products' chemicals together results in numerous benefits for farms, including:
Improved water quality and performance – Better functioning equipment results in more consistent and reliable water treatment for water lines and drinking water. Better conditioned water leads to increased water consumption by animals, thus supporting animal growth and better overall performance.
Scalability – Hydro Xtreme can treat most agricultural operations with one pump installed in a central location and is both scalable and customizable, allowing it to meet the needs of farms that anticipate growth or downsizing.
Compatibility – Hydro Xtreme is compatible with all of Proxy-Clean's water treatment chemicals like hydrogen peroxide, descalers and PH reducers. Additionally, the equipment can work with existing equipment and farm conditions. This is because Hydro Xtreme can be programmed to work with any existing pulse output water meter and, as a result, can make adjustments based on water flow rates to ensure that chemicals are always properly diluted.
Cost savings – The system drives cost savings in several ways. First, it eliminates the need for the customer to purchase several dosing systems for each barn. It can also be used with Proxy-Clean's bulk chemical containers, which are more economical. Lastly, the equipment doesn't use squeeze tubes and results in less wear, maintenance and replacement downtime and costs.
Increased safety – With Hydro Xtreme, employees do not have to properly dilute or mix chemicals by hand. All chemical storage is in one central location, as well. Eliminating chemical exposure greatly improves safety on the farm. The equipment can also operate safely even in high water pressure conditions.
According to Proxy-Clean Products, farms using Proxy-Clean and Hydro Xtreme together have reported that they have achieved the best farm water quality they've ever seen. Better water quality often leads to increased water consumption, as well as feed consumption, making this total solution a worthwhile investment for farms.