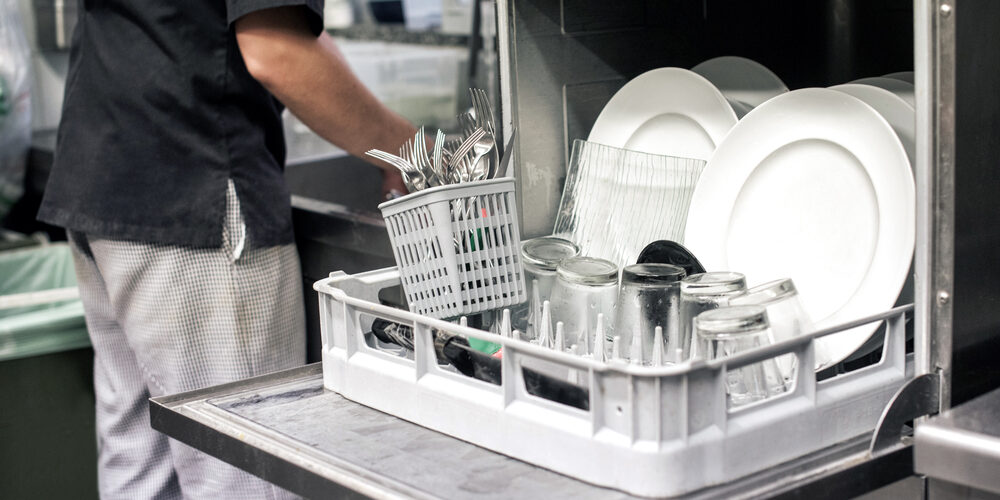 By: Matt Hayas, Global Product Manager, Hydro Systems
With warmer weather and increased dining occupancies on the horizon in many areas of the country, restaurants that have weathered the COVID-19 storm are beginning to see more reservations and foot traffic. In fact, a recent survey conducted by OpenTable found that 54% of respondents plan to dine out at a restaurant with table service this year at least once a week.

However, restaurants need to understand that new expectations for cleanliness will play a big part in customers' dining choices. With more than 80% of consumers expressing anxiety about dining out, it's clear much more will go into a good review or positive word-of-mouth than the food alone. Consequently, restaurants looking to bounce back need to implement cleaning procedures that address the public's concerns about eating out.

Cleanliness Best Practices for a Remarkable Review

New customer expectations will require restaurants to develop a cost-effective plan that addresses their top concerns in a recognizable way. Consider the following recommendations:
1. Improve the warewashing process – During the pandemic, many restaurants transitioned to using disposable plates and utensils to give diners greater peace-of-mind about infection prevention. This created significant waste, added cost, and, in certain dining establishments, it diminished the customer experience. As businesses make the switch back to reusable dishware and silverware, it's important to prioritize cleanliness.
Using a cost-effective, reliable chemical dispenser to support warewashing ensures dishes, glasses and utensils are effectively washed and sanitized between each use. Look for dispensers that can accommodate a range of dish machine types, can be easily installed and programmed and meet electrical safety standards. Dispensers can also help restaurant staff take the guesswork out of manual dishwashing by accurately diluting chemicals into multi-compartment sinks. Attempting to measure these products manually is likely to yield poor cleaning performance or food code violations.
2. Maintain clean restrooms and facilities – Restrooms are often the smallest spaces in a restaurant but carry the most impact. A dirty restroom raises more than a few red flags for customers, one being that kitchen and dining areas are also dirty. Before the pandemic, 80% of U.S. adults surveyed said that they would consider not returning to a restaurant if they experienced dirty restrooms. With higher expectations around cleanliness now in place, restaurants can't afford to turn customers away by failing to maintain restrooms.
Chemical dispensers make the cleaning process simpler and more convenient by accurately and reliably diluting cleaning chemicals into mop buckets and spray bottles. Portable units with a tether design can also be useful in restaurant settings, particularly for small restaurants that don't go through a lot of chemical. These dispensers offer a cost-effective means of transitioning from manual mixing or ready-to-use products by providing accurately diluted solutions. Properly concentrated chemicals are most effective at removing foul odors, preventing the build-up of dirt and removing or inactivating potentially dangerous pathogens.
3. Promote good hand hygiene – Gaining customers' trust is more difficult than it was pre-pandemic, but restaurants can earn it by making their devotion to cleanliness transparent. For instance, hanging signs in restrooms that list expectations for employees, hand washing best practices or hand hygiene's role in preventing the spread of illness assures customers the restaurant is committed to their health and safety.
Additionally, restaurants can also implement touchless hand soap dispensers in restrooms. In fact, a recent study showed that 91% of Americans believe public restrooms should have touchless features, making it all the more critical. Providing easy access to hand sanitizer in dining areas is another simple change restaurants can uphold to promote good hand hygiene and build rapport with customers.
4. Continue to make the cleaning process visible – Over the last year, restaurants have taken steps to demonstrate proof of clean to customers. This is not a trend with an expiration date; it must be a continuing priority. According to a 2020 survey, 31% of respondents listed disinfecting all dining surfaces between use as the most effective step restaurants can take to reduce customer anxiety. Restaurants can address this by visibly wiping down tables before customers are seated and regularly cleaning hostess stands, bars, restrooms and other areas while eaters dine. This creates no room for doubt and establishes the restaurant's commitment to around-the-clock cleanliness.
5. Go beyond what's visible – It's widely accepted that it is easier to properly maintain drains than to unstop clogged ones in a fast-paced restaurant environment. However, maintenance of drains and other systems requires consistent application of maintenance chemicals. Utilizing a chemical dispenser for automatic drain dosing helps prevent both foul odors in kitchen settings and clogged drains, which often transpire into bigger, costly and time-consuming problems.
Reserving your Restaurant's Place at the Top
After a tough year, creating a culture of cleanliness is more vital for the restaurant industry than ever before. Thankfully, this spring and summer presents an opportunity for restaurants to put their best foot forward on the road to recovery. It will be essential for these businesses to meet new customer expectations for cleanliness. Restaurants that adapt their processes and have the right equipment in place to address customer concerns will have the best chance of securing a steady number of diners and a place at the top of coveted "must dine" lists.